Bike Shop
The WCC Bike Shop is a space where we are able to take well-loved bikes and use them to empower and benefit those in our community. We are able to do this through two unique programs that operate out of the bike shop, Giving Bikes Back and The Bike Build.
Giving Bikes Back
Giving Bikes Back is a program of the Westside Community Center that restores used bikes and donates them to the youth and families in our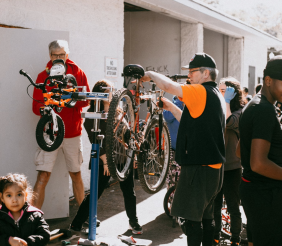 community. Our recipients and partner charities have told us that with limited hours or job loss altogether, many people can't afford gas or bus passes. In addition, people are seeing students' grades and behaviors improve by getting exercise and fresh air after being cooped up with remote learning. Riding their newly donated bikes has given the whole family a way to manage stress at a difficult time.
We'd love your support keeping our recipients safe!
If you would like to donate a well-loved bike, tools, or finances to help this program thrive please email Lindsay Remington at
The bike build
The Bike Build works as a part of our STEM Program teaching youth in our community how to build and care for their own bike. Students are given a well-loved bike and over the course of our 6-week Bike Build Program strip it down and rebuild a new bike with their own hands. The goal of this program is to provide new skills, build self-confidence, and provide students with the opportunity to own their own bike!